If you have young kids, they've probably seen some YouTube. And they've probably got hooked on some stupid channel, and at least heard the word "Merch". After our brains lost enough brain cells, we took the YouTube app off the TV.
However, when I stumbled across Teespring, I had an idea. I thought my boys would love to design some of their own merchandise & we could "sell" it on the Teespring platform. And by "sell", I mean buy them a t-shirt and sweater. I also thought it would take much longer than a few hours for them to make their designs. But they were done in an hour or two and were happy with just one design each.
Here is how we did it.
Step 1 – Get them to draw something.
My oldest made a logo, my youngest a duck.
I tried to upload them as is, but the crinkles in the paper and light reflection don't work well when you're just using a phone & not a scanner.
Step 2 – Get the design in an easy to edit format
I then traced over their lines, and took a picture of that. Using MS Paint, I was able to switch it to a 2 color bitmap, then back to 24-bit, then go over their lines with thick Paint lines.
Then color in the shapes to match using the paint fill tool.
Then I found an online "PNG transparency maker" app, to set the surrounding white area to be clear.
Step 3 – Sign up and create your products
I didn't put too much effort into finding someone to make these. I didn't want to pay anything out of pocket just for this exercise. I used Teespring.
Step 4 – Put it all together in their online Store
All their products are available in their online store "Merch by Mac, Gear by Greyson".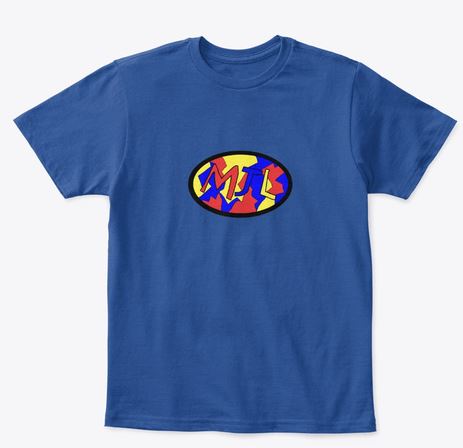 So if you're in the market for a 'MJL' or 'Mighty Duck' shirt, they'd be stoked.